"A KEEN parent once told me that the time I spend with his child is a gift to his child, but the truth is I am the one getting a gift!" – KEEN coach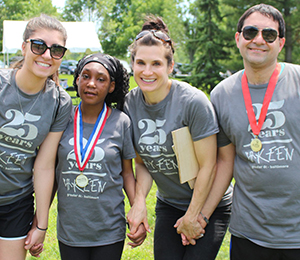 In addition to working with some great kids and young adults with disabilities, KEEN volunteers, or "coaches," meet a variety of interesting community-minded people. Volunteering for KEEN is fun and offers opportunities for occasional participation, regular involvement, and leadership. Volunteers don't need any prior experience working with disabled individuals – KEEN provides training prior to each session. Coaches don't need to be athletic, either. Our athletes will love you just as you are!
KEEN's programs are structured so that each volunteer is assigned one program participant, or "athlete." A coach's job is to help athletes take part in different sports activities and to have a good time. Just before the athletes arrive and the session begins, coaches receive a profile with details about their athlete's abilities as well as helpful coaching hints for that particular athlete.
In addition to coaching individual athletes, KEEN volunteers have the opportunity to become a member of our Coaches Committee. This group plans and directs all KEEN activities, and provides a rewarding opportunity for leadership within KEEN.
KEEN VOLUNTEERS ARE:
Individuals/Young Professionals from surrounding areas are the core of KEEN's volunteer base. KEEN understands the demands on these dedicated coaches, and does not ask them to make a formal commitment of time – they are welcome to show up when they can. But the rewards from interaction with their athlete and the other volunteers make them want to come back, time and again.
High School volunteers are welcome and KEEN provides student service hours. Spaces for high school student volunteers are limited, and to reserve a space, they need to register for each session. High school volunteers must be at least 15 years of age.
Community Service Volunteers: If you wish to earn community service hours for the time you spend volunteering at KEEN, you MUST bring a community service form with you when you come to volunteer, and turn it in at the front desk at the beginning of the session. You are responsible for tracking your own hours, including the dates and sessions you volunteered.
Corporate/University/Community Groups are welcome to volunteer at KEEN. Groups wishing to volunteer are asked to contact KEEN to reserve a program and a date, at volunteer@keenGrDC.org
A New Volunteer Orientation is held prior to each KEEN Session.
HOW TO BE A SUCCESSFUL KEEN VOLUNTEER: