"We so love this group!! Truly Amazing People! And to be able to bring our son to a safe place where they can exercise, have fun, interact with others like him and grow friendships is truly amazing! KEEN has truly changed our lives. We are Blessed that we have found this amazing group and I tell everyone about it." - KEEN Parent 
Our Mission - Empower youth with disabilities by providing free, non-competitive one-to-one programs of exercise, fitness and fun, led by volunteer coaches.
Our

Vision

: To foster confidence, self-esteem and community inclusion for youth with disabilities; strengthen communities through education of volunteers; and provide families with respite and a supportive network.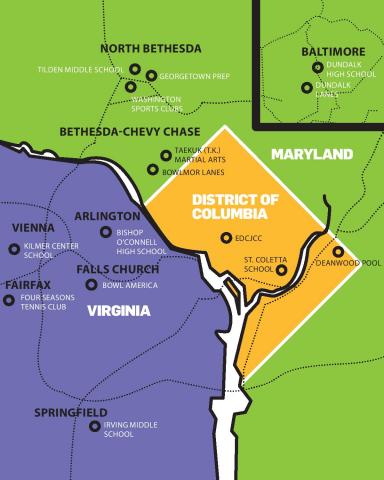 Founded in 1992, KEEN is based on a simple idea: pair a trained volunteer coach with a young person with disabilities and let them discover what they can accomplish together. Over the last 26 years, KEEN Greater DC-Baltimore has grown from one program in Montgomery County, MD to 35 programs in Maryland, Washington, DC and Virginia. Current programs include sports, swim, basketball, soccer, music, tae kwon do, tennis, dance, bowling, fitness, yoga and KEEN club.
 
Today, KEEN Greater DC-Baltimore provides more than 1,300 program hours each month to over 500 children, teens and young adults with significant developmental and physical disabilities such as autism, cerebral palsy and Down syndrome. For many of these children, the time spent with KEEN is the only opportunity they have to improve their developmental and social skills through physical activity.  It also gives them a place where they are accepted and find a sense of belonging. 
 
Are you interested in volunteering with us? Click Here
Are you a parent looking to learn more on how to enroll an athlete? Click Here
Are you interested in making a donation to support KEEN's work? Click Here