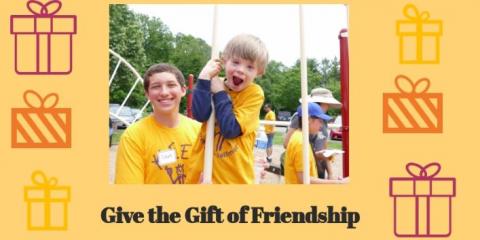 Help us bring the gifts of fun, fitness and friendship to future generations of children, teens, and young adults with disabilities. 
A planned gift to KEEN Greater DC will make it possible for KEEN to continue offering its innovative programs completely free of charge for many years to come.  When you give to KEEN Greater DC through securities, bequests or other long term financial plans, you are joining your life legacy with our mission to
foster the self-esteem, confidence, skills and talents of our athletes through non-competitive activities, allowing young people facing even the most significant challenges to meet their individual goals.
Here are just a few of the many planned giving options available. To view a detailed description of each option, please click the links below.
If you have any questions or would like to further discuss your planned giving options please contact our Development Director, Christine Cummins at 301-775-7572 or
[email protected]

.
 For any questions about the tax consequences related to planned giving, please consult a tax advisor.  
Bequests/Wills
A bequest may be made in your will or trust directing a gift to the organization.  This is one of the easiest ways you can leave a lasting impact on KEEN Greater DC through planned giving.  With the help of an advisor, you can include language in your will or trust specifying a gift to be made to KEEN Greater DC as part of your estate plan.  
A Bequest May be Made in Several Ways:
Gift of a percentage of your estate.
Gift of a specific dollar amount or asset.
Gift from the balance or residue of your estate.
 
Possible benefits of Your Bequest
Receive estate tax charitable deduction.
Lessen the burden of taxes on your family.
Leave a lasting legacy.
Stocks and Bonds
A gift of appreciated securities, including stocks or bonds, is another way to make a gift to KEEN Greater DC. Our account information is as follows:
DTC #0015
Firm: Morgan Stanley
FBO Kids Enjoy Exercise Now Foundation
Account #850-167741-304  
The potential benefits of this type of gift could include:
Reduced capital gains tax.
Receive a charitable income tax deduction.
Enjoy possible increased income.
Further our mission today!  
Life insurance policies are another vehicle that can be used to contribute to KEEN Greater DC.  You can designate KEEN Greater DC as one the beneficiaries or sole beneficiary of your life insurance policy. You will continue to own and can make use of the policy during your lifetime.  
 
A gift of retirement assets (IRA, 401(k), 403(b), pension or other tax deferred plan) is another option for making a gift to KEEN Greater DC. 
How to Transfer Retirement Assets
Your retirement assets may be transferred to KEEN Greater DC by completing a beneficiary designation form provided by your plan custodian. If you designate KEEN as your beneficiary, we will benefit from the full value of your gift and your estate will benefit from an estate tax charitable deduction for the gift.