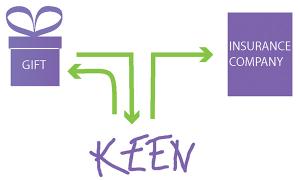 You believe in the work of KEEN, and you want to ensure that we will be able to provide recreation activities to our KEEN Athletes and their families for years to come.  You want your gift to make a difference for us, but are concerned about your own future financial needs and those of your family.
There are many ways to support KEEN, but finding the giving arrangements that make the most sense for you can be a difficult road to navigate.  To help you make this decision, it is important to consider the following: 
WHAT:
What type of asset do you want to donate?  Cash, marketable securities, retirement assets, real estate, life insurance, tangible goods? 
WHEN:
Do you want your gift to take effect - during your lifetime, as part of your legacy or both?
HOW: 
Do you want to make an outright gift or retain some interest in the asset?
If you have any questions or would like to further discuss your planned giving options please contact our Development Director, Elizabeth Doherty at 301-775-7572 or dev.dir@keengreaterdc.org.  For questions about the tax consequences related to planned giving, please consult a tax advisor.
Download our Planned Giving Brochure  or Planned Giving Information Sheet to learn more.